Netflix: In this French action comedy, Jean-Claude Van Damme plays an aging mercenary who finds his son and sets off to save the world.
In Theaters: Allison Baker was in Marseilles for a year of study abroad, but has since found herself arrested for a murder she did not commit. Her only hope is her father, Bill, who has come to France to find a way, any way, to exonerate her.
In Theaters: A great green giant arrives in Arthur's court at Christmas for a challenge: He will let any of Arthur's knights strike him a mortal blow if, in one years time, that knight submits to the giant's own stroke. When Gawain takes the challenge, he is launched on a quest that will force him to confront not only terrible dangers, but himself and his chivalric worthiness.
Disney+ and Theaters: Intrepid British explorer Lily Houghton travels to the Amazon in search of a fabled tree with healing powers. Working with ship's captain Frank Wolff, she braves the dangers of the jungle and a determined German submariner.
Digital on Demand: The people of Smelliville want to pave over the stinky local dump but a new family of garbage-eating creatures have just moved in.
Netflix: Devastated by her break up and struggling with her career, Erica begins working as a musician on an island resort. Then her ex appears with his fiancee, and Erica's has to sing at their wedding.
Netflix: When terrorists hijack a plane they confront a terror they couldn't even imagine.
Amazon Prime: Lindy has a hair-trigger temper and reflexes to go with it. When she loses access to the treatment that helps her control her violent outbursts, she goes all out for revenge.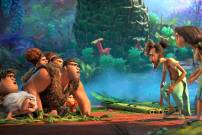 Digital on Demand: The Croods have found some new neighbors, a family called the Bettermans, who claim to be more highly evolved than the Croods. And you thought your neighbors were snooty.
R
Will has an unusual job: interviewing prospective souls who want to be born on Earth. The candidates will have to pass nine days of difficult tasting in order to qualify for the opportunity - and it won't be quite what any of them anticipated.
Not Rated
Digital on Demand: After publishing her novel, Kate is invited to speak at her alma mater. But going back to school means more than familiar surroundings, and Kate soon finds herself drawn into the personal lives of some of the current students.