Netflix: A successful violinist who dislikes children is becomes the guardian of his orphaned niece.
Theaters. Set in the Gold Rush era in California, Redeeming Love is the story of Angel, who was sold into prostitution as a child. Resigned to a life of pain and self-loathing, Angel meets a hopeful young man named Michael, who believes that love can heal any hurt.
In Theaters. King Louis XIV will stop at nothing to achieve immortality, even going so far as to abduct a mermaid and steal her life force. But his quest is threatened when the mermaid is discovered by his illegitimate daughter.
In Theaters. Rob Horton finds a caged tiger in the woods and, with his friend Sistine, decides to set it free.
In Theaters: With age creeping up on him, Jackson is trying desperately to maintain his career as a jockey while coping with new personal challenges.
Netflix: A British diplomat is sent to Germany on the eve of World War II on a mission to try to peacefully stop the war before it can begin.
Netflix: Sparks fly when a brash New York hairdresser is hired to cut Prince Thomas's hair - but he's engaged to another woman.
Amazon Prime: Drac and his friends have been transformed into humans and Johnny into a monster. Now they want to switch back before their mixed up bodies become permanent.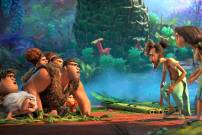 Digital on Demand: The Croods have found some new neighbors, a family called the Bettermans, who claim to be more highly evolved than the Croods. And you thought your neighbors were snooty.
PG
Steaming. Ready to be independent, possum brothers Crash and Eddie set out to find a place of their own, but accidently end up back in the Lost World, a place where dinosaurs have managed to evade extinction. With the help of their friend, Buck Wild, the possums try to avoid becoming someone else's lunch.
Not Rated
Digital on Demand: After publishing her novel, Kate is invited to speak at her alma mater. But going back to school means more than familiar surroundings, and Kate soon finds herself drawn into the personal lives of some of the current students.
PG
Digital on Demand: After her parents die from cholera, Mary Lennox is sent from India to her uncle's remote Yorkshire estate. Alone and unhappy, Mary finds solace in a secret, walled garden with magical properties.
PG-13
Digital on Demand: A biopic exploring a sensational take on the life of famed inventor Nikola Tesla, and his struggles to sell AC electricity to a society already interested in rival Thomas Edison's DC system.
PG-13
In Theaters: Although they had been told that their music would save the universe, BIll and Ted still struggle to make their music take off. Now ageing parents, the duo need a little help from the future to make sure the future is most excellent.