Amazon Prime: Based on a true story, a group of young soccer players are trapped in a system of caves with their coach. As the monsoon returns, it's a race against time to rescue them.
Netflix: A man wakes up with no memory but with a bomb in his mouth and a speaker in his ear, giving him directions. Oh, and the CIA has just caught up with him.
Hulu: An origin story of The Predator, set 300 years ago in the world of the Comanche Nation. Female warrior, Naru, fights to protect her tribe against aliens armed with technology they've never seen before.
Apple TV+: Sam is unlucky: everything that can go wrong will go wrong in her life. As she searches for good luck, she will learn how exactly how it all works.
Netflix: A time traveler brings warning of the end of the world. Leo and his brothers must come together and save the world from an alien threat.
Theaters: Based on Jo Koy's experiences, this film finds the humor in an Easter weekend visit with a big Filipino family.
Theaters: A group of assassins find themselves on the same bullet train in Japan. Soon they realize that they all have connected yet conflicting missions.
Netflix: Asha and Ravi are both being pressured to get married. In order to calm their nagging parents they pretend to date each other through a summer of weddings.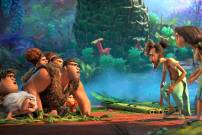 Digital on Demand: The Croods have found some new neighbors, a family called the Bettermans, who claim to be more highly evolved than the Croods. And you thought your neighbors were snooty.
PG-13
Apple TV: Conrad has a meticulously ordered life until Molly comes into it and brings with her the chaos of having 5 different personalities all sharing her headspace.
Not Rated
Digital on Demand: After publishing her novel, Kate is invited to speak at her alma mater. But going back to school means more than familiar surroundings, and Kate soon finds herself drawn into the personal lives of some of the current students.