In Theaters: Middle school is proving to be difficult and lonely for Barney, an awkward tween. When he receives Ron, a longed for digital friend, he winds up on an unexpected journey into the meaning of friendship.
In Theaters and HBO Max: Paul Atreides has been born to a powerful family and must travel to a dangerous planet to secure the most precious resource in existence. The survival of his people depends on it.
Netflix: An eccentric group of residents in a Parisian apartment building get acquainted when the city goes into Covid-19 lockdown.
Netflix: Needing the cash, a college student moonlights as a chauffeur for a night. He picks up two beautiful women, only to discover that they are more dangerous than he ever imagined.
Digital on Demand: When Janine's ex warps time to destroy her marriage, her husband has to figure out how to save their happiness.
Netflix: In this Norwegian thriller, a couple head off for a holiday in their cabin. But their plans are more homicidal than amorous.
In Theaters: Tired of being terrorized by the murderer who has stalked her for years, Laurie leads a vigilante mob to hunt him down.
Netflix: It's 1944 and the Nazis are determined to hold on to the Netherlands. But in the Battle of the Scheldt, the Canadian Army comes in force with aid from the Dutch Resistance and British troops.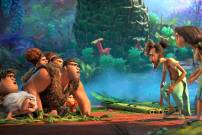 Digital on Demand: The Croods have found some new neighbors, a family called the Bettermans, who claim to be more highly evolved than the Croods. And you thought your neighbors were snooty.
R
In Theaters: An American newspaper in a fictional French city publishes weird and wonderful stories by its eclectic and unconventional writers.
Not Rated
Digital on Demand: After publishing her novel, Kate is invited to speak at her alma mater. But going back to school means more than familiar surroundings, and Kate soon finds herself drawn into the personal lives of some of the current students.