Disney+: With their TV career decades in the past, Chip and Dale have gone their separate ways: Chip selling insurance and Dale on the convention circuit. But when an old colleague disappears, the chipmunks must repair their friendship and go to the rescue.
Theaters: Hoping to find peace, Harper heads to the idyllic English countryside, only to discover that she's being stalked by someone...or something.
Digital on Demand: While starting high school and dealing with other teens for the first time, Tyson decides that he's going to run a marathon with the hope of gaining approval from his father, who has struggled to connect with his autistic son.
Theaters: The continued saga of the Crawley family and the Downton staff as the Dowager Countess reveals a mysterious past.
Hulu: After being accidentally included in a photo with an actress and her married lover, a valet is given an interesting proposition: cash if he pretends to be the actress's romantic interest.
Netflix: Determined to land a major client, a young woman who has just started a wine import business travels to Australia and winds up falling in love.
Theaters: Passepartout wants to become a famous explorer so he joins forces with Phileas to travel around the world in 80 days.
Theaters: In this adaptation of a Stephen King novel, a young girl can set massive fires with the power of her mind. The federal government is trying to capture her, so her parents have taken her on the run.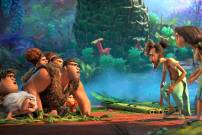 Digital on Demand: The Croods have found some new neighbors, a family called the Bettermans, who claim to be more highly evolved than the Croods. And you thought your neighbors were snooty.
PG-13
Theaters: Tom Cruise returns as Pete Mitchell, now training top gun grads for a mission none of them could have imagined.
Not Rated
Digital on Demand: After publishing her novel, Kate is invited to speak at her alma mater. But going back to school means more than familiar surroundings, and Kate soon finds herself drawn into the personal lives of some of the current students.