Online Rental: In a dystopic future, a young girl seeks a solution for the ecological devastation of planet Earth.
Apple TV: Based on a true story, Chickie Donohue travels to Vietnam to deliver all his friends a beer while they're serving in the war.
Prime Video: Best friends Abby and Gretchen are entering their sophomore year of high school together. After a freaky event at a party, Gretchen starts acting strangely and Abby suspects an exorcism is required.
Netflix: In a modern retelling of The Wizard of Oz, a young woman in search of her mother finds unusual companions along the way.
Disney+: Three young women accidently release the Sanderson Sisters back into modern day Salem. With the witches out for revenge, the girls must figure out a way to stop them before it's too late.
Theaters: On a mission to retrieve the runaway wife of a rich businessman, a bounty hunter crosses paths with an outlaw he sent to prison years ago and a Mexican crime lord.
Theaters: Bobby claims he doesn't want a relationship. Modern dating as a gay man is too complicated and he's busy with his career. Then he meets Aaron, a stereotypical "bro" who is way out of Bobby's league. But something seems to be drawing the two together.
Theaters: After witnessing the death of a patient, a psychiatrist begins to see things that no one else can.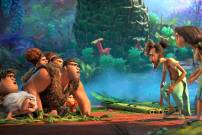 Digital on Demand: The Croods have found some new neighbors, a family called the Bettermans, who claim to be more highly evolved than the Croods. And you thought your neighbors were snooty.
PG-13
Netflix: After the death of an elderly billionaire, a teen boy who he had befriended starts getting mysterious text messages seemingly from beyond the grave.
Not Rated
Digital on Demand: After publishing her novel, Kate is invited to speak at her alma mater. But going back to school means more than familiar surroundings, and Kate soon finds herself drawn into the personal lives of some of the current students.