Netflix: Melissa McCarthy stars as Lilly, a grief-stricken woman who is frustrated when a noisy starling builds a nest near her home. The bird attacks her and Lilly throws herself into getting rid of the bird, with unexpected results.
In Theaters: Evan Hansen is a teen with social anxiety disorder who writes letters to himself to explore his feelings. But when one of his letters is found in the possession of a classmate who has committed suicide, everyone assumes that the two boys are friends. Unwilling to grieve the dead boy's family further, Evan plays along, with unexpected consequences.
Netflix: Ponies, unicorns, and flying pegasi are estranged, and now live in groups defined by their species. But young pony Sunny wants to restore Equestria's lost unity and magic. So she bands together with a unicorn, a pair of pegasi, and another pony to save the ponyverse.
In Theaters: Apache Junction is a dangerous town to be in, lawless and crawling with thieves and murderers. For reporter Annabelle Angel, the town means bad trouble. Fortunately for her, she's got help: quick-on-the-draw gunslinger Jericho Ford.
Digital on Demand: Two young Slovak Jews escape from Auschwitz with documentary proof of the genocide occurring there. They want to share their knowledge with the world but people don't want to believe it.
CIFF: This documentary examines how black aesthetics influence global beauty standards - and how those standards penalize black women.
CIFF: In this suspense thriller, a woman with a history of mental illness starts hearing noises.
CIFF: This documentary tries to understand happiness by talking to His Holiness the Dalai Lama and Archbishop Desmond Tutu.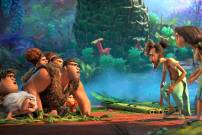 Digital on Demand: The Croods have found some new neighbors, a family called the Bettermans, who claim to be more highly evolved than the Croods. And you thought your neighbors were snooty.
Not Rated
Anne is a little emotionally fragile, something she hopes to work past in her new job as a nanny for two troubled children at a remote cottage. But while she's working, she begins to fall for their father...and realizes she has history with their mother. But she's not the only one with history...
Not Rated
Digital on Demand: After publishing her novel, Kate is invited to speak at her alma mater. But going back to school means more than familiar surroundings, and Kate soon finds herself drawn into the personal lives of some of the current students.