Online rental: When Jo brings her newborn daughter home from the hospital she begins to sense a terrifying conspiracy around her. Is there actual evil or is Jo just losing her mind?
Theaters: A wise-talking ginger cat named Maurice has come up with the perfect money-making scam along with a horde of rats. That is until a local bookworm starts getting in their way. (Not playing in Canada.)
Theaters: A woman trapped in an abusive relationship gains perspective and strength while on a trip with friends.
Netflix: When a kidnap victim is mute from trauma, two police officers in Spain have to find the criminals who abducted her, while also dealing with the constraints of the coronavirus pandemic.
Netflix: The true story of an Australian teen who set out to be the youngest person to sail solo around the world.
Theaters: A young girl and her family are taken hostage by a group of people who claim that they can prevent the apocalypse, but one of them will have to die.
Netflix: Thale's just trying to make new friends and then she learns about the terrifying Viking curse that sees werewolves preying on the people of her town.
Theaters: Four best friends decide to seize life and take a trip to the Super Bowl so they can watch their favorite quarterback, Tom Brady.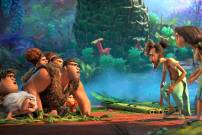 Digital on Demand: The Croods have found some new neighbors, a family called the Bettermans, who claim to be more highly evolved than the Croods. And you thought your neighbors were snooty.
R
Theaters: After a business deals goes bust and leaves him broke, Mike Lane is stuck in Florida bartending to survive. But when he meets a wealthy socialite, she takes him with her to London to put together an extravagant dance production.
Not Rated
Digital on Demand: After publishing her novel, Kate is invited to speak at her alma mater. But going back to school means more than familiar surroundings, and Kate soon finds herself drawn into the personal lives of some of the current students.