Theaters: in the 1960s, a young secretary strikes up a friendship with the new prison psychologist, who has a dangerous agenda.
Netflix: Decades after a notorious tabloid romance, a couple's marriage is tested when an actress enters their life to do research for a film about their past.
Theaters: After his young son is killed in a crossfire between gangs, a tormented father plans his revenge.
Theaters: Just as Japan is emerging from the end of World War 2, a giant monster, born of the atomic bomb, terrorizes her shores.
Prime Video: Determined to win a neighborhood Christmas decorating contest, a man accidentally makes a deal with a mischievous elf who unleashes chaos.
Disney+: When a pilot is lost over the North Sea, another plane appears and leads him home.
Theaters: Unwillingly transferred to an alternate reality, a man must struggle to return to this world and the woman he loves.
Netflix: In the chaotic days right before Christmas, family members switch bodies and have to figure out how to get back to normal.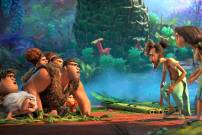 Digital on Demand: The Croods have found some new neighbors, a family called the Bettermans, who claim to be more highly evolved than the Croods. And you thought your neighbors were snooty.
Theaters: A small town waitress and pie-maker dreams of winning a baking contest to escape her mundane life.
Not Rated
Digital on Demand: After publishing her novel, Kate is invited to speak at her alma mater. But going back to school means more than familiar surroundings, and Kate soon finds herself drawn into the personal lives of some of the current students.