Theaters: When a reluctant 11-year-old is sent to spend the summer with his grandmother on the Navajo Reservation, he meets his extended family and learns more about his culture.
Disney+: When some naughty kids get skipped by Santa, they plan a heist to steal toys from the big guy's workshop.
Theaters: A college professor suddenly becomes famous when millions of strangers start seeing him in their dreams.
Theaters: A young girl named Asha makes a wish upon a star and ends up with far more than she bargained for.
Theaters: Napoleon Bonaparte, Emperor of France and would-be conqueror of Europe, is the focus of this lengthy biopic.
Theaters: A student at Oxford visits a classmate's wealthy family and has an eye-opening experience.
Apple TV+: A shy child finds comfort and companionship with a Velveteen Rabbit he received for Christmas.
Theaters: After a riot breaks out on Black Friday, a killer terrorizes the people in the community.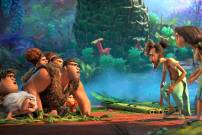 Digital on Demand: The Croods have found some new neighbors, a family called the Bettermans, who claim to be more highly evolved than the Croods. And you thought your neighbors were snooty.
PG
Netflix: In the chaotic days right before Christmas, two parents and their teenage children switch bodies and have to figure out how to undo it.
Not Rated
Digital on Demand: After publishing her novel, Kate is invited to speak at her alma mater. But going back to school means more than familiar surroundings, and Kate soon finds herself drawn into the personal lives of some of the current students.