Netflix: A wooden puppet is magically brought to life and sets out to become a real boy.
Netflix: When her deliveries are sabotaged, a courier must race to return all the Christmas presents to their intended recipients.
Amazon Prime: Izzy is not happy about her family moving out of the big city to a small farm. That is, until she meets a pony named Snowflake who Izzy believes to be a unicorn. (Available on Roku or CTV in Canada.)
Disney+: Greg Heffley and his brother, Rodrick, don't always get along. But when left alone together for a whole weekend, they discover they might have more in common then they thought.
Theaters: A wealthy family is taken hostage by a group of thieves on Christmas Eve and there's only one person who can save them: Santa Claus.
Netflix: Miserly Ebenezer Scrooge is visited by three ghosts who show him the error of his ways.
Netflix: A unhappily married woman begins a torrid affair with her gamekeeper, against the traditions and values of the society she in which she lives.
Amazon Prime: A newly in love couple both decide to surprise the other by showing up at their parents' home for Christmas, and end up stuck with the other's family for the holidays.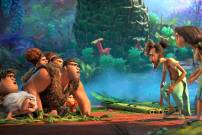 Digital on Demand: The Croods have found some new neighbors, a family called the Bettermans, who claim to be more highly evolved than the Croods. And you thought your neighbors were snooty.
TV-MA
Netflix: A couple in a troubled marriage decide to try out an app that adds or subtracts points based on their behavior and deeds towards each other. It works well at first, until their competitive natures start to take over.
R
Apple TV+: Based on a true story, an enslaved man named Peter travels through the swamps of Louisiana in an attempt at freedom and to be reunited with his family.
PG
Prime Video: A young woman gets an engagement ring from her boyfriend, but the problem is, he didn't buy it. The ring belongs to another man, who comes into her life and leaves a lasting impression.
PG-13
Theaters: Michael and Kit have a rom-com worthy relationship, until Kit is diagnosed with terminal cancer and their story quickly becomes a tragedy.
Not Rated
Digital on Demand: After publishing her novel, Kate is invited to speak at her alma mater. But going back to school means more than familiar surroundings, and Kate soon finds herself drawn into the personal lives of some of the current students.
PG
Digital on Demand: After her parents die from cholera, Mary Lennox is sent from India to her uncle's remote Yorkshire estate. Alone and unhappy, Mary finds solace in a secret, walled garden with magical properties.
PG-13
Digital on Demand: A biopic exploring a sensational take on the life of famed inventor Nikola Tesla, and his struggles to sell AC electricity to a society already interested in rival Thomas Edison's DC system.
PG-13
In Theaters: Although they had been told that their music would save the universe, BIll and Ted still struggle to make their music take off. Now ageing parents, the duo need a little help from the future to make sure the future is most excellent.