Netflix: A young boy who is anxious about Christmas away from his grandparents encounters an elf who's trying to figure out what all the fuss is about. Together, they search for the meaning of the holiday.
Netflix: After a twelve year old girl accidentally destroys a mixtape made by her late parents, she decides to find each of the songs on the original cassette tape.
In Theaters: Johnny is a journalist who has been roped in to looking after his young nephew. Both of them are in for a surprise.
Netflix: Peter is perpetually single, much to the disappointment of his meddling family. So Peter hatches a plan to bring his best friend, Nick, home for the holidays to pose as his boyfriend. But is it all really just an act?
Netflix: Part Western, part psychological thriller, this is the story of Phil Burbank, a charismatic but cruel rancher who torments his sister-in-law and her teenage son.
Digital on Demand: This adaptation of the classic story of Ebenezer Scrooge takes a very artistic look at the miser's transformation.
Digital on Demand: A designer is hired to decorate the Belmarian embassy for the upcoming charity ball. Her job is made more difficult when the ambassador informs her to keep the decor to a minimum.
Amazon Prime: This documentary looks at the massive Australian bushfires of 2019/2020.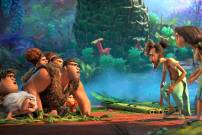 Digital on Demand: The Croods have found some new neighbors, a family called the Bettermans, who claim to be more highly evolved than the Croods. And you thought your neighbors were snooty.
PG-13
Theaters. In 1950's Upper West Side New York there are two gangs, the Puerto Rican Sharks and the white Jets. The rivalry between these two gangs comes to a head when Tony, from the Jets, falls in love with Maria, the sister of the leader of the Sharks.
Not Rated
Digital on Demand: After publishing her novel, Kate is invited to speak at her alma mater. But going back to school means more than familiar surroundings, and Kate soon finds herself drawn into the personal lives of some of the current students.