Theaters: Based on the true story of how everyday people flipped the script on Wall Street by turning GameStop stocks into a must buy investment.
Netflix: Two young children discover that their parents are elite spies that have been captured by an evil game developer. In order to save their parents and the world, they'll have to become spies themselves.
Theaters: The Expendables, an elite fighting force only used as a last resort, are called in to face off against a dangerous arms dealer.
Hulu: A young woman awakens to a terrifying reality - cruel aliens have landed and are in her home. It's up to her to save herself. (This film streams on Disney+ outside the USA.)
Theaters: After her friend disappears, Samidha finds a diary filled with disturbing pictures. That's only the beginning of the horrors to come.
Amazon: As a young boy, José Hernandez dreams of being an astronaut. As an adult, he puts his all into making the dream come true.
Netflix: Hadley and Oliver meet by chance at an airport and fall for each other almost immediately. When Hadley loses Oliver's number, she decides to try to find him in the crowded city of London.
Theaters: Hercule Poirot reluctantly attends a Halloween seance in Venice, but has to investigate when one of the other guests is murdered.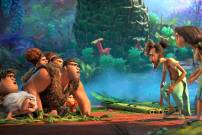 Digital on Demand: The Croods have found some new neighbors, a family called the Bettermans, who claim to be more highly evolved than the Croods. And you thought your neighbors were snooty.
PG
Theaters: After a meteor crashes into Adventure City, it gives the PAW Patrol superpowers. As they learn to use these new powers, two new villains arrive and it will take all of the PAW Patrol's skills and teamwork to defeat them and protect the city.
Not Rated
Digital on Demand: After publishing her novel, Kate is invited to speak at her alma mater. But going back to school means more than familiar surroundings, and Kate soon finds herself drawn into the personal lives of some of the current students.