Netflix: Bigfoot has gone to Alaska to save wildlife from Big Oil. When he disappears, his wife, son, and animal friends come to the rescue.
Hulu: Billie Holiday is one of the icons of the Jazz age, an incredible talented singer in demand across the country... and not just by the jazz clubs. The Federal Bureau of Narcotics is trying to use her drug habit to silence her.
HBO Max and Theaters: Tom and Jerry have been literally locked in a game of cat and mouse their whole lives, but they've called a truce, and Jerry has moved into a posh New York hotel...where the owners hire Tom to deal with their new mouse problem.
Netflix: A cunning woman makes sure wealthy elderly people are declared unfit and in need of a guardian. Once she gets named to the role, she drains their bank accounts. But one day, she goes after the wrong woman.
Digital on Demand: When Daniel's Florida holiday is cancelled, he has to spend the summer at home with his mum. He's not thrilled.
In Theaters and Digital on Demand: When Charles hires a medium so he can learn about seances, he's shocked when his late wife comes back from the dead. His current wife is even more horrified.
Disney+: When Flora adopts a squirrel she names Ulysses, she has no idea that he is going to develop superpowers.
Digital on Demand: Out of work and running out of money, Fern takes her camper van on the road, looking for a job. It's going to be a much longer trip than she expected.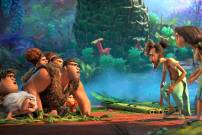 Digital on Demand: The Croods have found some new neighbors, a family called the Bettermans, who claim to be more highly evolved than the Croods. And you thought your neighbors were snooty.
PG-13
Although Anthony has recently turned 80, he insists that he is more than capable of managing on his own. His daughter, Anne, is rather less certain. Anthony has rejected a long list of caregivers who Anne has brought by the apartment, but he's beginning to wonder if he really might need help...
Not Rated
Digital on Demand: After publishing her novel, Kate is invited to speak at her alma mater. But going back to school means more than familiar surroundings, and Kate soon finds herself drawn into the personal lives of some of the current students.