Theaters: Cree matriarch Aline Spears reflects on her life as an indigenous Canadian - the trauma of residential schools, service in World War II, and a lifelong quest for justice. (Canadian theaters only.)
Amazon Prime Video: After his brother is kidnapped by a dangerous cartel, Reda hatches an impossible plan to save him, which may or may not involve kidnapping the cartel leader's son.
Theaters: A family is haunted by suspicious deaths that seem to be related to a mysterious supernatural being.
Theaters: Miles Morales is struggling to balance being Spider-Man with his academic and familial duties. But on a trip into the infinite multiverse he discovers a team of Spider-People working to protect every reality, and they want him to join them.
Netflix: Asterix and Obelix are Gauls with super strength who have been recruited by a young Chinese princess to save her kingdom from a palace coup.
Netflix: Elliott is a fisherman who has the unexpected opportunity to record an album. Will success come at too high a price?
Theaters: When Beth overhears her husband's unflattering opinion of her latest novel, she rethinks her marriage, her career, and the rest of her life.
Theaters: At the end of WWII, a German deserter finds himself entangled in a Nazi hunt for Jewish gold.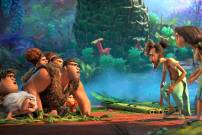 Digital on Demand: The Croods have found some new neighbors, a family called the Bettermans, who claim to be more highly evolved than the Croods. And you thought your neighbors were snooty.
Theaters: The ongoing battle between the Autobots and Decepticons reaches new levels of intensity as the Maximals, Predacons and Terrorcons join the fray.
Not Rated
Digital on Demand: After publishing her novel, Kate is invited to speak at her alma mater. But going back to school means more than familiar surroundings, and Kate soon finds herself drawn into the personal lives of some of the current students.