Hulu: Loretta McLaughlin is the first journalist to connect a series of murders to the Boston Strangler. Up against the sexism of her time, she'll put her own life at risk to uncover the truth.
Netflix: An orphaned boy in search of his sister is challenged to find a magician with an elephant and then complete three impossible tasks.
Theaters: When angry gods come to Earth in search of the powers stolen from them long ago, Bill Batson and his family of fellow foster kids have to learn how to use their own powers to save the world.
Theaters: An art thief is trapped inside a New York penthouse after a heist gone wrong and has to figure out how to survive.
Netflix: When Dante wakes up the morning after his birthday, he learns that it's his birthday again - one year later.
Netflix: A has-been radio personality, Enrique is desperate to make enough money to travel to Mexico City to attend a party celebrating his past career achievements. He gets a job bagging groceries and focuses on other ways, some illegal, to find more cash.
Theaters: A young diver befriends a blue grouper, then uses her knowledge of the ocean to fight back against poachers and unscrupulous developers.
Disney+: Chang, a 16 year old high school student in the marching band bets the school basketball star that he can learn how to dunk. He recruits a basketball coach to help him, and soon learns more about himself, his friends, and his family.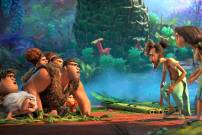 Digital on Demand: The Croods have found some new neighbors, a family called the Bettermans, who claim to be more highly evolved than the Croods. And you thought your neighbors were snooty.
TV-Y7
Netflix: Pampered pets Pud and Ham wake up one morning to find that all the humans on earth have disappeared. To bring them back, they'll need to travel to the center of the universe and they need your help!
Not Rated
Digital on Demand: After publishing her novel, Kate is invited to speak at her alma mater. But going back to school means more than familiar surroundings, and Kate soon finds herself drawn into the personal lives of some of the current students.