HBO Max and Theaters: Usnavi owns a bodega and saves all his money to return to the Dominican Republic. But when it looks like his dream can come true, he has second thoughts.
Digital on Demand: Troy Mayfield loves making video games - but now he's in charge of fixing a professional video game, and he's on a tight schedule. Failure will will cost his family their business, and Troy is going to have to ask for help.
Netflix: When Din discovers a magical dragon, he wishes to reconnect with his childhood best friend. Who knew that such a simple wish would unleash such a wild series of events?
Netflix: Prerna is fascinated when she first sees a skateboard. When a woman donates some to her village, Prerna discovers a real talent. But now she has to choose between following her dreams or adhering to her family's traditional expectations.
Digital on Demand: Although Helen is fiercely independent, she's spending a month in a nearby retirement community while her home is remodeled. But once she's in, she finds a social world that she thought she left behind in high school.
In Theaters: Unhappy with Bea's new husband, Peter Rabbit heads for the big city where he makes new friends and sows yet more chaos.
Netflix: A cataclysmic event wiped out the world's electronics and destroyed people's ability to sleep. With one exception - a little girl whose mother has to keep her safe.
Digital on Demand: Explorer and naturalist James Brooke landed in Borneo in 1839 with a goal of cataloguing the island's plants and animals. He wound up as its ruler, known to history as the White Rajah.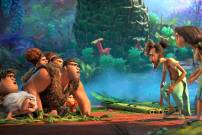 Digital on Demand: The Croods have found some new neighbors, a family called the Bettermans, who claim to be more highly evolved than the Croods. And you thought your neighbors were snooty.
PG-13
Although living with cerebral palsy isn't easy, Mike is determined not to let it define his life. Trying out for the school wrestling team is going to be a challenge, but with the help of his coach and his friends, he believes he can make it.
Not Rated
Digital on Demand: After publishing her novel, Kate is invited to speak at her alma mater. But going back to school means more than familiar surroundings, and Kate soon finds herself drawn into the personal lives of some of the current students.