Theaters: While driving to a party in Morocco, David Henninger (Ralph Fiennes) and his wife Jo (Jessica Chastain) accidentally hit and kill a young Muslim boy. The police are in no hurry to close the case, but the boy's father wants justice.
Disney+: This sports biopic tells the story of the Antetokounmpo family who were the first clan to have three brothers all win NBA titles.
Theaters: This biopic stars Austin Butler as the King and Tom Hanks as his unscrupulous manager as they navigate the path to superstardom.
Theaters. Young Finney Shaw is abducted and held in the basement of a sadistic serial killer. On the wall is a mysterious phone where the killer's past victims talk to Finney and help him plan his escape.
Disney+: In this recording of an off-Broadway musical, Trevor is a 13 year old who longs to win the school talent show. But he's also gay, and it's 1981.
Netflix: When Teddy (Kevin Hart) shows up at the wrong Airbnb, he gets roped into a sting to find the world's deadliest assassin - The Man from Toronto (Woody Harrelson).
Netflix: In accordance to her mother's dying wish, Lina heads off to Tuscany to spend summer with her father. Although she is reluctant to be there, she soon begins to discover the sweet secrets of Italy, and finds herself falling in love with a little more than gelato.
Theaters: Before Buzz Lightyear was a talking toy, he was the main character in a movie about an astronaut. Marooned on an alien planet, Buzz and his fellow astronauts and scientists need to find a way to return to Earth, despite Zurg's attempts to stop them.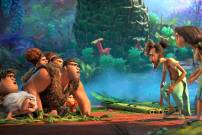 Digital on Demand: The Croods have found some new neighbors, a family called the Bettermans, who claim to be more highly evolved than the Croods. And you thought your neighbors were snooty.
TV-MA
During a paintball fight at his bachelor party, Sebastian and his friends find themselves holding the fate of the world in their hands as they battle and alien invasion.
Not Rated
Digital on Demand: After publishing her novel, Kate is invited to speak at her alma mater. But going back to school means more than familiar surroundings, and Kate soon finds herself drawn into the personal lives of some of the current students.