Netflix: A wooden puppet is magically brought to life and sets out to become a real boy.
Netflix: A successful novelist returns to his childhood home to settle his late mother's estate. While there, he meets a woman in search of her birth mother. As they work together, they learn more about their family stories.
Netflix: When a single father of five inherits a farm, he thinks he's found a quiet place to get work done while his kids enjoy the outdoors for a few days. The kids have other plans: they want to live there permanently.
Theaters: The Clades are a family of fearless explorers. But their latest expedition proves to be the strangest and most dangerous yet.
Theaters: When someone is killed during a friend retreat to Greece, Benoit Blanc is on the case, ready to unwrap layer after layer of hatred, jealousy and fear. (Coming to Netflix on December 23rd.)
Netflix: Based on a true story, two sisters flee Syria seeking safety in Europe. But the journey is even more dangerous than they expect.
Theaters: Based on a true story, two pilots become some of America's most celebrated wingmen during the Korean War.
Theaters: Sammy Fabelman is in love with movies. He wants nothing more than to make them, but his practical father is less than supportive of his passion.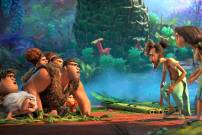 Digital on Demand: The Croods have found some new neighbors, a family called the Bettermans, who claim to be more highly evolved than the Croods. And you thought your neighbors were snooty.
TV-14
Netflix: After an explosion deep in the Norwegian mountains, an ancient troll begins to wreak havoc on the country and a group of scientists have to figure out how to stop it.
Not Rated
Digital on Demand: After publishing her novel, Kate is invited to speak at her alma mater. But going back to school means more than familiar surroundings, and Kate soon finds herself drawn into the personal lives of some of the current students.