Netflix: Sang Yu is completely exhausted because every time he goes to sleep, he is slaughtered by demons in his dreams. But he soon finds that he can also bring things back from his dreams to the real world... and his life is forever changed.
Digital on Demand: H, a mysterious cash truck driver, is responsible for moving millions of dollars around the city of Los Angeles while protecting it from thieves.
Digital on Demand: Melanie doesn't know what to do when her mother starts acting on paranoid delusions.
Digital on Demand: Although they started as Kung-Fu prodigies, Hing, Danny, and Jim have grown up and grown apart. When their former master is killed, they embark on a quest for revenge, while brushing up their rusty skills and managing their kids, jobs, and each other.
In Theaters: Comedy writer Charlie Burnz sees his career fade as young writers overtake him and medical issues slow him down. Then he meets Emma Payge, a singer much younger than he is. The two form a fast friendship...but will it survive his illness?
In Theaters: With his mother seriously ill, young Gunner Boone heads off into the woods to find the legendary Water Man who is reputed to have the power to raise the dead.
Netfix: A teen with a rosy future gets caught up in a robbery and must defend himself from a charge of murder.
Netflix: A dancer fears that her career is over after a serious injury. But she hasn't counted on her partner.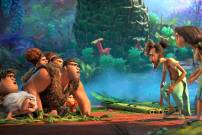 Digital on Demand: The Croods have found some new neighbors, a family called the Bettermans, who claim to be more highly evolved than the Croods. And you thought your neighbors were snooty.
R
Molly has struggled with heroin addiction for a long time, and has decided to apply for a treatment which might help her break the habit. But in order to be eligible, she'll have to stay clean for at least four more days...
Not Rated
Digital on Demand: After publishing her novel, Kate is invited to speak at her alma mater. But going back to school means more than familiar surroundings, and Kate soon finds herself drawn into the personal lives of some of the current students.